Senior living: Exercises and activities for seniors with arthritis.
Arthritis is a very common but not yet well understood condition that many older adults experience. Arthritis is a complex disease of mixed pathologies, and refers to joint pain and joint disease. In modern medical literature there are over 100 different types of arthritis. It is one of the leading causes of disability in America and over 50 million adults and over 300,000 children have some type of arthritis. This is more common in women and the prevalence of the disease increase as people get older. The most common symptoms of arthritis include joint swelling, pain, stiffness and decreased movement of the joints. Severe forms of this disease can cause chronic pain, limit the activities and cause disability.

How senior living communities help seniors cope with arthritis.
In the elderly, the type of arthritis that develops is termed "Senior Arthritis". This occurs due to wearing out of the joints over time and the cartilage begins to become ragged and weary. This cause the bones to rub against each other. This form is known as osteoarthritis and is the most common form found among elderly adults. This is seen on the hands, neck, lower back, and the joints which bear the weight of the body including knees and the hips. Arthritis can create physical challenges because regular activities like house cleaning, cooking, running errands, shopping, and physical activities can be uncomfortable and tiring. In a senior living community, assistance is provided by caregivers to alleviate the physical requirements of residents in their daily routines. Of course, residents are free to choose what activities they'll handle on their own, and they maintain their independence, but caregivers can assist with any tasks that are requested.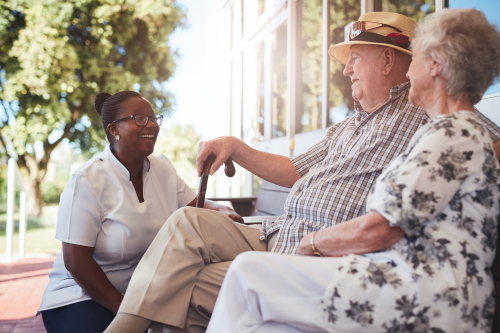 Arthritis treatment options
There are many treatment options available for arthritis, general starting with common anti-inflammatory drugs. However, most medications create side effects. Modern medical research has focused on alternative therapeutic measures. Some interesting findings are the exercise programs that help the elderly regain normal range of motion in the joints. Based on recent studies it has been found that at the early stages of the disease, due to joint pain, most people tend to reduce their activity and the use of the articular joint. This can lead to progression of the joint stiffness resulting from lack of use. Gentle periods of exercise that include gentle motions of the arms and legs have been very effective in regaining the normal joint function back.

Physical activities designed for seniors in assisted living communities are natural therapies for arthritis
The exercises are broken down into short bouts of sessions of 15 minutes or less. This will prevent the joint from being overused, and stretching exercises that include dynamic stretches have been found to increase circulation and blood supply to the joints. This can create quite a significant improvement in joint function and reduce inflammation and stiffness of the joints. These slow exercises with slow motions are included in Tai Chi. Tai Chi is popular for seniors in order to keep their joints mobile without causing excessive force on their joints.

"Though it can be intimidating for those with osteoarthritis, rheumatoid arthritis, fibromyalgia or lupus to begin exercising, when coupled with weight loss, it may be one of the best means for managing the disease" explains Patience White, M.D., M.A., vice president of public health at the Arthritis Foundation. He further stated that by continuous exercise people can cut down pain in their knees by about 50% and even postpone the risk of joint replacement.
Warm water therapy for arthritis
One of the best therapeutics for elderly with arthritis has been warm water. Warm water increases the circulation in the body and helps reduce inflammation. Water also adds mild resistance to the movement and will provide gentle resistant exercises. Walking in water or even swimming is a great exercise for people suffering from arthritides.
Visit CityView Senior Living Community in Los Angeles
We understand each individual is unique, and whether you have a family member who is having difficulty with advanced arthritis, memory loss, or other age related challenges, our expert care staff and upscale amenities can provide a comfortable retirement experience that makes life easier. Please contact us for more information about our senior living and assisted living programs, or to schedule a tour.

Reference:
Centers for Disease Control and Prevention. "Physical Activity for Arthritis Factsheet." Aug. 3, 2010. (May 20, 2011). http://www.cdc.gov/arthritis/pa_factsheet.htm
Water exercise for Arthritis. (2017). Retrieved 11 October 2017, from http://www.arthritis.org/water-exercise.php

Medicine Net. "Tai Chi." 1996-2011. (May 19, 2011). http://www.medicinenet.com/tai_chi/article.htm