Memory Care: Liverpool Museum House of Memories
Museums offer curated collections of nostalgic objects from the past, which makes them uniquely appropriate for memory care activities. House of Memories, an innovative dementia program run by the National Museums Liverpool, shows just how active museums can be in memory care. Developed as an educational resource, House of Memories aims to support and empower people with dementia and their caregivers.
As a senior living community offering specialized memory care programs, CityView keeps up to date with the latest research regarding Alzheimer's and memory care, and we recognize that creativity is an integral part of high-quality memory care services. House of Memories embodies a unique approach to memory stimulation techniques and offers a variety of memory-enhancing activities; below are some highlights.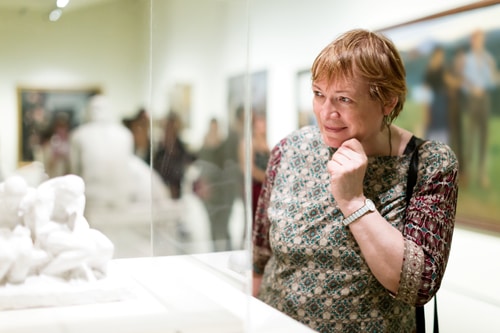 Meet Me at The Museum
One of the many programs offered by House of Memories, Meet Me at The Museum encourages seniors to drop by for social gatherings facilitated by the museum. Sessions are themed and designed to encourage conversation and stimulate memories with items from decades past.
Memory Walks
These guided tours provide a convenient way to exercise while exploring a number of exhibits and galleries. The museum's collection of interesting and diverse cultural items engages the mind and encourages visitors to share stories from their lives.
Memory Suitcases
Perhaps the most unique of all the programs offered by House of Memories is their collection of memory suitcases, filled with a variety of nostalgic objects such as coins, games, and fashion memorabilia. From The New York Times:
The suitcases cover 1930 to 1980. Themes include transportation, the natural world and ethnicity; for example, Irish and Afro-Caribbean people are among the groups represented. One suitcase contains items like fliers from early Gay Pride marches and club nights; photos of venues in the 1950s, '60s and '70s; and a pair of brown suede Hush Puppies, which some gay men wore to spot each other at a time when homosexuality still had not been decriminalized in Britain.
The museum conducts regular trainings on how to use these suitcases, which can be booked by groups or borrowed for up to two weeks.
When I Was Little
This intergenerational activity offers a way for young children and their older relatives to spend quality time together while exploring the museum. Young visitors are given a journal to document the experience, which is theirs to keep and treasure.
Closing Thoughts
House of Memories shows how the most effective memory care incorporates a variety of imaginative and intimate components. At CityView, we strive to provide a similarly engaging and supportive environment for those seeking memory care. With 3 different memory care programs, we are dedicated to providing an enriching and supportive senior living environment, especially for seniors experiencing memory loss. If you'd like to learn more about CityView and our specialized memory care programs, contact us today.