Senior Living for Couples
Couples living together in senior living communities are more common than you may expect. According to agingcare.com, for married couples, the ability to live together can be a deciding factor in whether or not to move to a community. Couples find ways to stay together, even when their needs are different or when one spouse requires assistance.
Many senior living communities offer shared rooms for couples, and it is even possible to find a community with one or two-bedroom apartments for rent.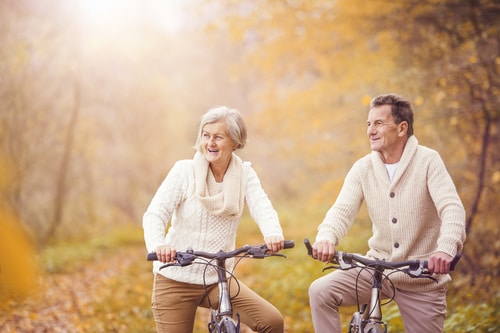 Senior Living: Caring for Individuals Within Couples
When couples move to senior living communities, they will first take a needs assessment to determine what each person needs from the community. The assessment will cover questions about everything from medical needs to mental status, ability to do housework, and mobility concerns. In the case that one person needs more care than the other, very often the spouse that needs less care will only pay room and board costs for themself while the spouse that needs assistance will pay for additional assisted living care.
While the community is responsible for determining how to take care of medical and mobility needs, couples living together in a senior community will also need to have a discussion with each other about needs in other areas of their lives. For example, if one person needs more assistance, they need to explain how they will feel if their partner is able to drive or leave alone while they stay behind.
Couples also may have different spiritual, intellectual, and social needs. If one person is very introverted, they may not enjoy living in a community with shared kitchens, and so the couple may prefer to live in an apartment. On the other hand, if someone is very extroverted, couples will need to find a community that offers group activities or shared spaces. Couples will also need to search for communities that offer activities best suited for both of them, such as art classes, swimming pools, or chess games.
Lastly, couples will need to plan what to do should one or both of them have major changes in their health. It is best to plan for these events together before any medical intervention is needed. Couples will need to plan out where they will live and who they will call upon for help should an emergency occur.
Finding Happiness Living Together as a Senior Couple
While everybody has different needs, happiness living together in a senior living community is possible for all couples. With proper communication, couples can make sure that everyone's needs are met. Communities are also used to listening to residents and accommodating both halves of a couple.
City View is an upscale senior living community in Los Angeles. If you're a senior couple searching for a retirement community, or you're exploring senior living options for your parents, please contact us for more information or to tour our community.
Research and References
Sollitto, Marlo. "Couples Living Together in Senior Housing." Couples Living Together in Assisted Living - AgingCare.com, 8 Feb. 2011, www.agingcare.com/articles/couples-living-together-assisted-living-144938.htm.