How we plan the holiday season at our senior living community
We enter each month feeling fortunate to be able to curate an engaging, rewarding retirement experience for seniors in the Los Angeles area. We have a special group of residents and staff, and we all work together to create the best lifestyle that is happy, healthy, and safe. The holiday season creates a sense of occasion that reminds us of the things we are thankful for, the things we value, and resets our perspective.
We all know that November ends with Thanksgiving, and we're making sure to go all out with a traditional Thanksgiving feast including Turkey and all of the classic trimmings. Our Thanksgiving feast will also include entertainment and visits from family. Thanksgiving is many of our residents favorite holiday and we're making sure it's going to be a great one this year.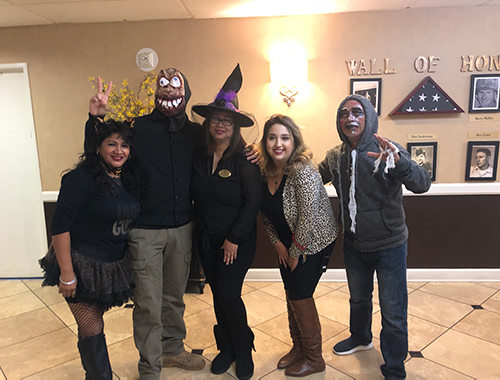 Key Program - Memory Care Family and Friends Support Group
Memory loss, Alzheimers, and dementia affects many families in the Los Angeles area and around the nation. As these forms of memory loss present themselves, it creates a process and period of adjustment for the individual affected and the families around the individual. Different families experience this in different ways depending on the severity and timing of the issue and the dynamic of the family. A healthy group environment centered around this very specific issue is helpful, and we have a representative from Alzheimer's LA host the group. It gives these families a place to be heard, to express their concerns and challenges about the issue, and to receive help, support, and clarity. As a senior living and assisted living community, this issue affects us significantly, and providing this support group gives our community even more purpose, and we plan on continuing to do this.
Resident of the month - Barry Mallin
We have a great group of residents at CityView. They have stories and amazing experiences to share with us, and like to brag about them whenever we can. This month we're featuring Barry Mallin, a veteran of the United States Marine Corps, and former intelligence officer who served for 26 years after graduating from Roosevelt University in Illinois.
Barry met his wife Toshiko while serving in Okinawa, and together they had three children. Following his service in the military, Barry worked as a military consultant for the U.S Government until his retirement. Barry has lead a rich life and we're blessed to continue adding to his experiences at CityView.
Key service: Assisted Living Program
We are a senior living community in Los Angeles with several lifestyle options and suite choices. We can provide assisted living services including everything from help with housekeeping and laundry to a variety of personal care. Our mission is to provide a special level of compassion, comfort, and care for seniors in the Los Angeles area.
See more about our assisted living program.
CityView
Independent living and assisted living in Los Angeles.
We provide a comfortable, rich, safe community for seniors in Los Angeles. We work to implement the healthiest and most modern concepts for a healthy and rewarding retirement experience across our entire care program from dining and physical health management to memory care therapies and lifestyle experiences.
We understand each family makes important decisions about retirement, long term care, and options like assisted living and memory care at their own pace. If you're in the early stages of exploring senior living communities and understanding the lifestyle options that are available, or you're further along in your decision and are auditioning specific communities in the Los Angeles area, we encourage you to contact us and speak with our director who can introduce you to our brand of senior living and discuss how we can fit into your family's long term care plans.
515 N. La Brea Avenue
Los Angeles, CA 90036
Phone: (323) 938-2131
Email: director@cityview.care