Everything that goes into our senior living community
October is an important month an CityView. While we're always busy planning activities, outings, fun meals, and healthy therapies, the fall season is an important time where we have many holidays and special events. We set out each month to give our residents a great experience in an environment that is safe, welcoming, comfortable, respectful, and truly like home. Our residents and their families continue to tell us that we're achieving that mission and we're happy to continue doing this.
Please take a moment to catch up on what we're planning for our community this October.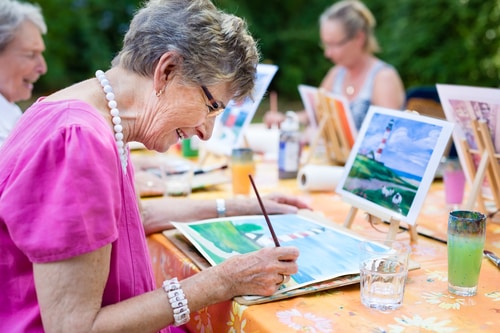 Key events and outings:
Getty Villa:
This is a great outing that we have planned. The Getty Villa is an amazing property in Malibu where they have recreated an ancient Roman house over a 7000 square foot house. It looks and feels like a wealthy home in ancient Rome, contains a beautiful art collection, and is a great experience for everyone. We want to create a rich retirement experience for our residents and we find that outings like this are a perfect opportunity to do that.
Pumpkin Carving:
On the 17th we're going to the pumpkin patch, and on the 30th we're carving pumpkins. This one will be fun.
Griffith Observatory:
On the 31st we're heading to the observatory - this is always a favorite for our residents and staff.
Key service: Independent Living Program
We are a fantastic option for independent living / senior living in the heart of Los Angeles. What this means is that residents have private personal residences in a community of seniors. We provide luxurious meals, comfortable accommodations, and our staff is here to provide support and care when needed. Our independent living residents are independent and can engage with our community in whatever way suits them. Our philosophy is to provide a warm, safe, healthy ecosystem for seniors to enjoy a stress free retirement.
See more about our independent living program.
CityView
Independent Living in Los Angeles
We are proud of the community we have established, and we are hard at work providing a safe, caring, warm place for seniors to call home. We feel fortunate that we get to work with our amazing group of residents, and we're blessed to have the talented and caring staff that make our community possible.
If you're exploring independent living communities in the Los Angeles for a family member, we would love to have you over for a tour of our community, and lunch with our team. We can walk you through our programs, advise on suitable options for your family, and give you the information you need to make a great decision.
515 N. La Brea Avenue
Los Angeles, CA 90036
Phone: (323) 938-2131
Email: director@cityview.care