One in four older adults experiences a mental disorder like depression and anxiety. Though common, these issues are not a normal part of aging. When left untreated, they can lead to illness, fatigue, and an overall lower quality of life. Even the healthiest seniors can still experience feelings of isolation, mourning, fear, discomfort, and worry due to the life changes that come with aging. All of this adds to a growing need for mental health therapy for older adults.
At CityView, we promote mental health programs like counseling and therapy so our residents can live out their golden years to the fullest. Below, we discuss how therapy can help seniors make a smooth transition to retirement and aging in an independent and assisted living community.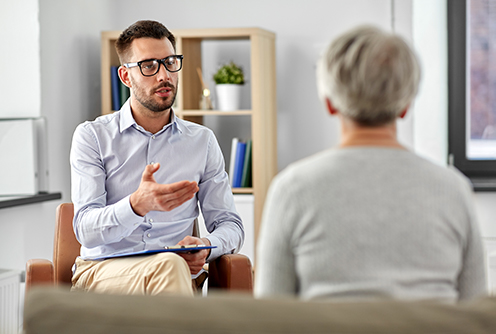 Learn How to Ask for Help
In young adulthood, we often strive for independence and learn how to comfortably rely on ourselves throughout our lives. As we age, however, there is a growing need for assistance, and seniors have to re-learn the art of asking for help. Seeking therapy is an important initial step toward this, and a therapist can help guide an aging adult toward comfortably building a lifestyle and support system that ensures that they are taken care of as they age.
Tap Into New Sources of Meaning
Assigning some type of meaning to life is essential to human health and happiness, and as we age, this meaning and purpose begins to shift. This is not necessarily a bad thing, but older adults need to discover what sparks joy for them aside from career and kids in order to thrive. While this may come naturally to some seniors, others may need a bit of guidance, and a therapist can help them learn how to tap into new sources of meaning by discussing what's important to them and assessing the options that are available to them at a retirement community.
Promote Optimism
Although many seniors find that their optimism improves with age, some may need a little bit more help seeing life from a brighter perspective. Aging can be a difficult process for many, and this can lead to feelings of pessimism as they anticipate a seemingly inevitable rapid decline. This outlook is not healthy, and it's important for seniors to adopt a more positive and realistic mindset. With therapy, seniors can learn healthy ways to cope with the changes that come with aging so they can lead a full and enjoyable life.
Map Out the Future
Life doesn't end at retirement. For many adults, it's just the beginning, and they should be able to plan for their future accordingly. A compelling vision for the future is a driving force for many, providing a sense of purpose and confidence. With therapy, older adults can discuss the life they want to create for themselves and develop a plan to get there, as well as work through any concerns that they may have about the future when making the change to life at a retirement community.
CityView
Independent Living, Assisted Living, and Memory Care in Los Angeles
If you are exploring luxury assisted and independent living in Los Angeles, we would love to show you how our community enhances the lives of seniors through personalized care that promotes positive mental health in a peaceful community setting. Please consider touring our upscale senior living community, or contact us for more information.
515 N. La Brea Avenue
Los Angeles, CA 90036
Phone: (323) 938-2131
Email: director@cityview.care