At CityView, we believe in the power of fostering social opportunities between people of all ages. We regularly invite young parents and their children to visit our senior living community and interact with our residents, and the benefits extend in all directions. Below, we discuss the benefits of intergenerational bonding and how it provides comfort, perspective, and learning for everyone.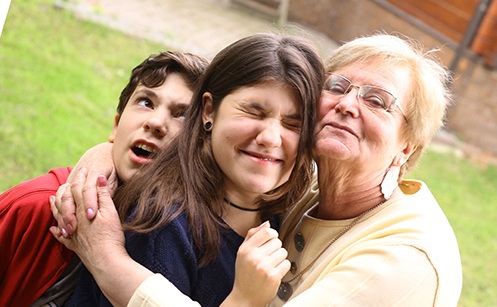 Builds Community
When people are raised in different periods of time, they can have significantly different perceptions and values. Generally, children, young adults, and seniors are isolated to an environment consisting primarily of people their own age, leaving little opportunity for each generation to truly understand one another.
By bringing people of all ages together in a positive and welcoming atmosphere, they are better able to learn about the other generation's point-of-view. Exposure to other generations leads to a greater understanding and acceptance of our similarities and differences, and social bonding across generations can support both youth and older adults through positive and enjoyable activities that engage and encourage both groups. On a wider scale, this type of collaboration can benefit communities as a whole, as a healthy society is one in which people of all ages work together rather than apart.
Provides Learning Opportunities
No matter our age or background, we all can learn something from one another. For people both young and old, spending time with other generations can open our minds to new perspectives on life. When both seniors, children, and young adults spend time together, young people learn to accept and understand the aging process, while older people are reminded to slow down and enjoy the moment.
Intergenerational bonding also provides an opportunity for both young and old to learn new skills. With the saturation of technology in young people's lives, many skills and hobbies enjoyed by past generations are slowly becoming lost arts, while older people may struggle to adapt to new technologies. By sharing their unique skills and wisdom with one another, people of all ages can connect and bridge the gap that divides each generation.
Improves Mental Health and Cognition
While intergenerational bonding can benefit the community as a whole, it is especially effective in promoting overall well-being in seniors and combating feelings of isolation. For aging adults, social interaction has been linked with decreased loneliness and a host of physical health benefits, which becomes increasingly important with age. Further, the lively energy of children can encourage seniors to smile more and channel their youthful side, leading to a more vibrant senior living environment.
When seniors interact with children, they may also see cognitive health benefits. According to Generations United, seniors with dementia perform better on memory tests when they engage in intergenerational activities compared to seniors who do not. Additionally, interacting with children may alleviate communication issues and social anxieties that seniors with dementia sometimes experience when interacting with other adults.
CityView - Where Senior Life Happens
Independent Living, Assisted Living, and Memory Care in Los Angeles
Intergenerational bonding programs can bring new life to senior living communities, making them uplifting places where older adults grow closer to people across generations instead of growing further away. At CityView, we understand the importance of fostering positive relationships with people of all ages.
Our community in Los Angeles places a strong emphasis on intergenerational relationships in a warm and welcoming atmosphere that truly feels like home. If you are exploring luxury assisted and independent living in Los Angeles, we would love to show you how our upscale senior living community enhances the lives of older adults through community-centered care. Please consider touring our senior living community, or contact us for more information.
515 N. La Brea Avenue
Los Angeles, CA 90036
Phone: (323) 938-2131
Email: director@cityview.care
References
Generations United, https://www.gu.org/