Los Angeles is best-known for its entertainment, cultural diversity, and gorgeous weather, but it's also an ideal retirement destination for culinary connoisseurs. And while ramen bars, diners, and food trucks can be found everywhere you look, Los Angeles has an amazing collection of dining destinations, and you can find almost every style of food within a close vicinity, from continental and Americana to modern fusion and nearly everything in between.
Dining is a universal past time, and is a life long activity that bonds family and friends. As an upscale senior living community in Los Angeles, CityView is familiar with the many fine dining opportunities that can be found in this city. Here are a few of our favorites to add to your culinary wish list.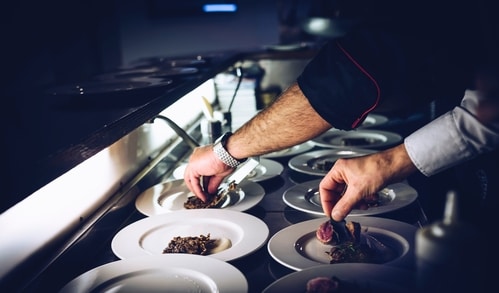 Providence
This Michelin-starred restaurant is considered one of the best fine dining experiences in Los Angeles. Whether you go for lunch or choose the full tasting menu, the artful presentation and beautifully cooked meals will leave an impression. Highlights include foie gras ravioli and wagyu beef cigars.
Vespertine
With a glass and steel exterior, custom musical score, and mission to depart from tradition, Vespertine promises to be memorable. Chef Jordan Kahn's self-described "gastronomical experience" engages all the senses by combining choreographed service with otherworldly, sculptural dishes. One particularly unique feature is their juice menu – an unconventional alternative to the usual wine pairings.
Patina
Situated right in the heart of downtown Los Angeles, this award-winning French restaurant offers tantalizing seasonal tasting menus, caviar service, and an artisanal cheese course. Don't miss the squid ink pasta, black truffle risotto, and of course, the wine list.
Orsa & Winston
By mixing Japanese and Italian cuisines, Orsa & Winston offers a unique and fresh take on fine dining with both 4-course and 6-course tasting menus. Their intimate, minimalist atmosphere compliments the delicate and subtle flavors of each dish. We recommend the Satsuki rice porridge and Thai pumpkin soup.
Mélisse
Though reviewers rave about their lobster Bolognese, it's worth noting that Mélisse is one of the few fine dining restaurants to offer a fully vegetarian tasting menu. Their offerings rotate seasonally, but their signature dish – egg caviar – is always on the menu. The basil brioche and Snickers-inspired dessert are also popular choices at this elegant French restaurant.
CityView
Upscale Senior Living in Los Angeles
If you're looking for a truly memorable fine dining experience, Los Angeles won't disappoint. With an estimated 27,000 restaurants to choose from, you're bound to find something that will please every palate, from the most adventurous eater to the more traditional-leaning tastes.
At CityView, we recognize the importance of delicious and healthy food, and our residents enjoy a diverse range of flavorful meals such as gourmet burgers, shrimp scampi, and homemade pizzas. Our location in the heart of Los Angeles means convenient access to some of the country's most interesting restaurants. To learn more about our upscale senior living community,