Retirement is the time to enjoy the fruits of your labor, and there's no reason that has to change when the time comes to move to assisted living. With the growing popularity of luxury senior living communities, such as CityView, retirees are able to continue living with all the familiar comforts of home, while also enjoying 24-hour care and other assisted living benefits.
If you're considering a senior living community for yourself or a loved one, you might be wondering what makes a luxury assisted living community special. Keep reading to learn more about how CityView creates an upscale senior living experience.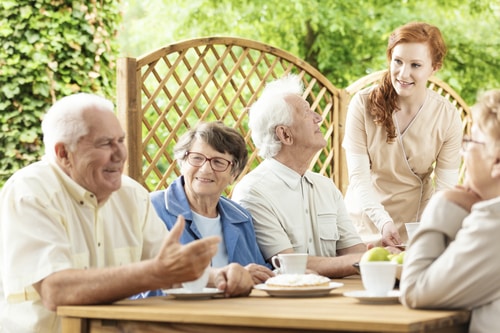 Resort-like Atmosphere
Spacious suites, tranquil gardens, and meticulously landscaped grounds combine to create an authentic resort-like feel in a luxury senior living community. At CityView, our elegant suites offer beautiful views and come in a variety of sizes, layouts, and price points, with options such as balconies and walk-in closets.
High End Services
High-quality service and hospitality are key to any upscale experience, and senior living communities are no exception. A luxury assisted living community offers services that go above and beyond, including housekeeping, medication management, hygiene assistance, 24-hour concierge service, and occupational therapy. Luxury assisted living communities also take the time to create a personalized plan for each resident.
At CityView, our qualified and attentive staff provide round-the-clock coordinated care. We also provide services such as free transportation to appointments, and companions to accompany you to doctor visits. No matter what your needs are, rest assured that you'll be in good hands.
Gourmet Meals
Any luxury experience isn't complete without delicious meals. At CityView, our dining services include tray service options, snacks and coffee all day, and 3 daily meals made from fresh, high-quality ingredients. Even our breads and pastries are made from scratch. You can expect a full range of breakfast options (including specialty foods like lox and bagels) and a wide variety of nutritious and tasty options for lunch, dinner, and dessert. Everything from shrimp scampi to crème brulee can be found on our menu, and our chef can accommodate any special dietary needs.
Upscale Amenities
Luxury assisted living isn't just about daily needs. As important as those things are, fun and social activities are essential for a healthy and dynamic aging experience as well. In a luxury senior living community, you'll find a variety of daily activities to choose from. Live music, movies, and games are examples of entertainment you might find, and creativity is encouraged through activities such as jewelry making and cooking classes.
Located in the heart of Los Angeles, CityView residents have access to some of the best entertainment and cultural activities in the country – and that's reflected in our activity calendar, which includes outings to nearby museums, shopping centers, restaurants, and parks, as well as in-house activities and entertainment. We offer all-day games, a card room, nightly movies, a library, and language classes to stimulate the mind, along with yoga classes and walking club to stay fit. Residents also enjoy benefits like a full-service beauty salon, reserved parking in an attached parking garage, and a fitness room designed for seniors.
CityView
Luxury Assisted Living in Los Angles
There are many things that set luxury assisted living communities apart. At CityView, our diverse amenities, elegant suites, gourmet meals, and top-notch service combine to create a comfortable and luxurious experience. We're proud to offer an upscale senior living community at affordable prices, and we'd love to show you around. If you're looking for luxury assisted living in the Los Angeles area for yourself or a loved one: