Each month we write up a tour d'horizon of important, fun, and helpful things that take place at CityView. This helps inform families who are searching for assisted living and memory care services in Los Angeles about how we can help them in the future. It also can be a convenient way to give clarity to what goes in an assisted living community each month. We understand this lifestyle is new to most families who are searching for the right senior living situation for a loved one, and when they can see that our days are full of a healthy combination of physical and intellectual activities, socializing, and learning, they're able to visualize their loved one settling in to our community.
To start off the month we will be celebrating our nation's independence on July 4th, because on that day in 1776, the Declaration of Independence was approved and set the 13 colonies on the road to the freedom we now enjoy. As always, we mark this significant holiday with barbecues and fireworks across the country; City View will be no different! The country has struggled through difficult times of illness and protest these past months, and we are looking forward to healing and growth this summer.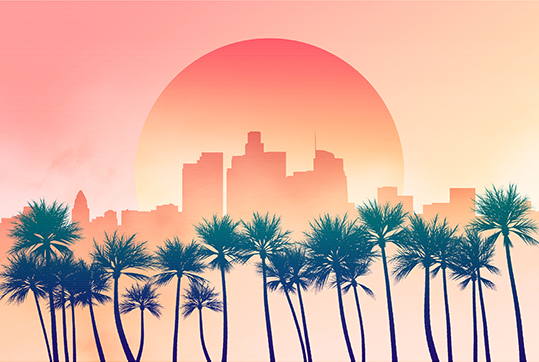 Our country's quarantine has been a time of learning, self-reflection, and personal discovery. Here at City View we have come together as staff members, families, and residents to care for one another and support each other during difficult times, and we have all learned not to take our lifestyles for granted. Throughout the summer, we look forward to resuming life as we knew it, though with more safety measures and appreciation than before. Apart from celebrating Independence Day, there are several national holidays this month that we will be celebrating in order to rejoice and instill play in the community once again. From National Ice Cream Month to Bastille Day, to Nelson Mandela Day and Gorgeous Grandma Day, we have plenty of fun planned for July. Here's to an exciting and hopeful start of summer, where we will celebrate freedom and health with new appreciation!
Resident of the Month - Mercedes G
Our City View Resident of the Month is Mercedes G.! Mercedes was born and raised in Puerto Rico, eventually attending the University of Puerto Rico where she studied Business Administration. She was privileged to travel, live, and work in Spain in the Architecture business. She was always sporty, and loved to do anything that got her heart pumping; her favorites included playing tennis and running. Mercedes has two daughters that definitely kept her running around when young! Her philosophy in life is to treat everyone with kindness and respect, and to be patient; as a result good things would come to you, including that kindness and respect rubbing off on others. She enjoys the various experiences that City View has to offer, and looks forward to a fun-filled summer. Thank you for being a part of our community Mercedes!
Employee of the Month - Sara Hernandez
Sara is an exemplary caregiver at City View, and we are grateful to have her fun and caring spirit contributing to the needs of residents and staff members! She grew up in Mexico City, Mexico, and attended college there, studying nursing. She moved to the Unites States when she was 18, and has currently lived here for over 30 years while raising two amazing sons. In her free time she maintains an immaculate and beautiful household, and loves to go shopping. Sara's philosophy in life is to always follow her heart, and respect people, and it has served her well. She loves to laugh and live in the moment, experiencing happiness and spreading joy wherever she goes. Her favorite part about her job is spending time with residents, getting to know them and their favorite songs so they can sing together. She feels as though the residents and staff members are her family, and it reflects in her care for the community. Thank you for all the joy Sara; we are happy to recognize you in appreciation as the Employee of the Month!
July is Social Wellness Month, and a time to learn about how we connect with society and individuals and the importance of those relationships.
The focus is on the giving and receiving of social support, identifying the network of friends and family an individual can turn to in times of crisis as well as times of celebration, and ways to keep relationships healthy. Since social support acts as a buffer against adverse life events, it is especially vital for seniors to have a strong social network in place and to have ways to grow and nurture it. Social support enhances quality of life and provides a buffer against adverse life events. Seniors reap the benefits of positive social interaction in a number of ways, from increased social and emotional well-being to improvements in physical and cognitive functions. During these pandemic times, there are still means by which we can give and receive social support, even from a distance. Writing letters, emailing or telephoning family and friends, and utilizing Zoom and other virtual communication programs are all means by which we can stay in touch and enhance our social relationships and maintain our social wellness. It is always difficult to maintain and grow relationships, whether due to business, distance, or even quarantine; but the positive mental, emotional, physical and spiritual benefits are worth our continued pursuit of social wellness!
CityView
Assisted Living and Memory Care in Los Angeles
We our extremely proud of the assisted living and memory care community we've built in Los Angeles. Our residents and their families, as well as our staff, take the time to tell us that this is a special place for seniors, and each month that inspires us to continue doing our work, and finding inventive ways to make life better for everyone.
If you're exploring senior living options in Los Angeles, you'll have many questions, and price is a real factor that you'll need to consider. If you have questions about pricing, costs of living, and payment options, please contact us and speak with our director.
515 N. La Brea Avenue
Los Angeles, CA 90036
Phone: (323) 938-2131
Email: director@cityview.care