INTRODUCTION: Creative methods used by assisted living facilities and memory care centers in Los Angeles.
Alzheimer's is a degenerative brain disorder characterized by the death of brain cells resulting in cognitive impairments and loss of memory. It accounts for almost 60-80% of the patients with dementia in the United states. Usually, this affects the people after their 65 however only 10% of cases are seen in younger than this age group. Loss of memory, cognitive deficit, problems with recognition, difficulty speaking, and behavioral changes are some common symptoms associated with an Alzheimer's diagnosis.
ARTS AND CRAFTS GUIDANCE FOR ALZHEIMER'S RESIDENTS:
Seniors with Alzheimer's associated memory loss require proper care and facilities to help them feel more comfortable and relaxed. Memory care centers are helpful in this regard as all the facilities and care are concerned. Caregiving for Alzheimer's is a long-term process that requires patience, flexibility, and devotion for the care of seniors with memory impairments. They need to feel engaged in activities to alleviate the stress, depression, and anxiety of the disorder. Arts and Crafts are alternatives to medication in relieving stress, reducing anxiety and agitation, and improving the behavior and quality of life for clients with Alzheimer's.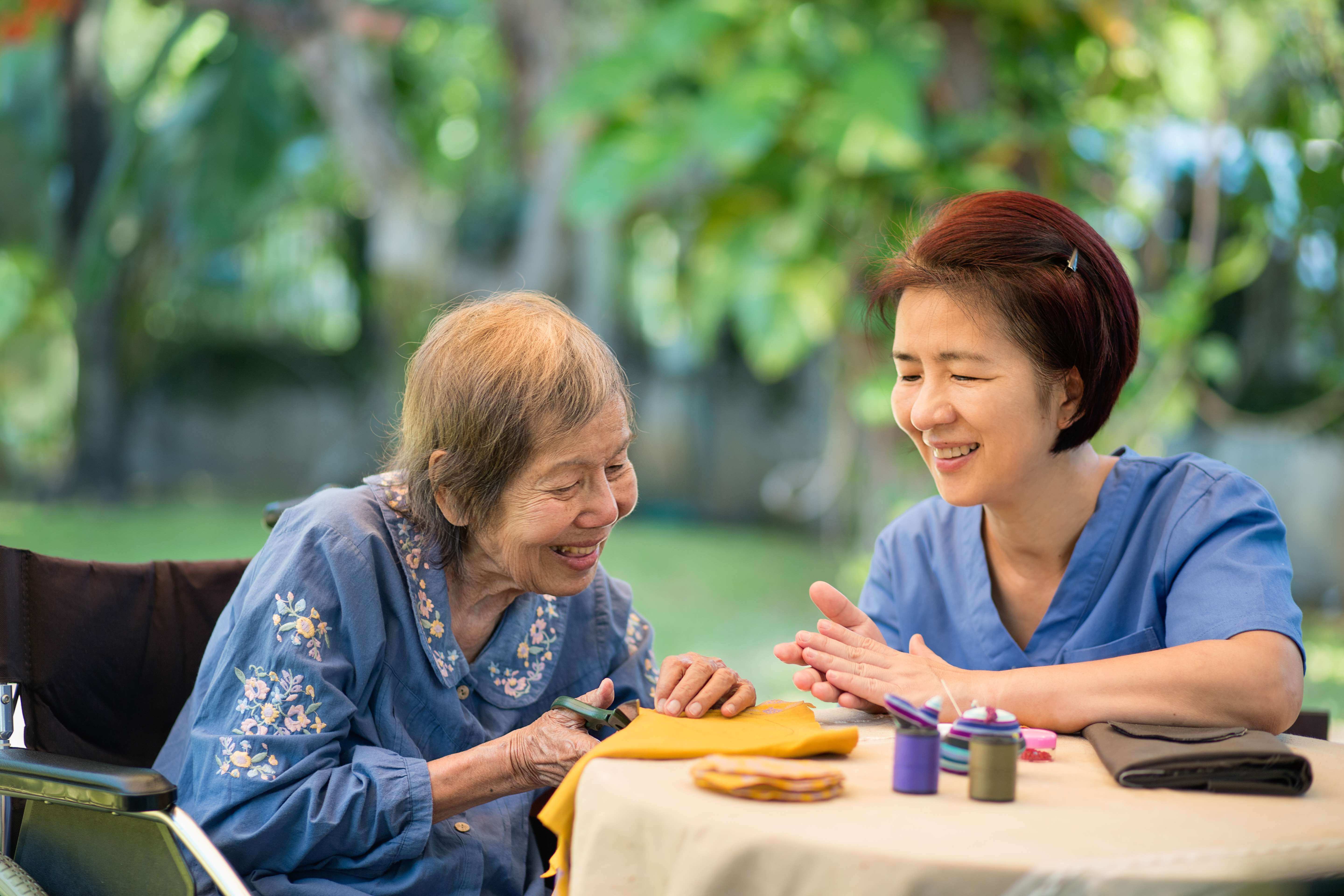 BENEFITS OF ARTS AND CRAFTS FOR ALZHEIMER'S:
Alzheimer's progresses with diminution of the cognitive functions and loss of memory however engaging the residents in craft activities to help slow this degenerative process. According to experts, arts and crafts are not only beneficial for dementia but also essential for the health and wellness of affected residents. These creative activities help stimulate the brain, reduce stress and depression, boost the immune system, increase the sense of humor and provide relaxation to the residents with dementia. Further benefits of arts and crafts in improving the life of residents may include:
Stimulates Senses: A generalized degradation in sensory perception is indicated in dementia. Arts and crafts activities stimulate these senses through texture, color, and sound.
Reduces Agitation: Agitation and aggression are among the most difficut symptoms affecting residents with dementia. Creative activities and music help boost their moods. Music has also been indicated to recap the memories which help Alzheimer's remember early life events.
Enhance Recall: Creative arts and craft activities boost the neuronal connections of the brain. Although the brain cells are degenerating in dementia, creativity helps strengthen the brain connections. Strengthening those connections has been shown to increase the memory and recall process in residents with dementia.
Improve Memory: Memory degradation is the most highlighted symptom of Alzheimer's. Creative arts such as painting stimulate the brain and improve memory. It also increases the duration of memory loss in 70% of the residents with dementia.
BEST ARTS AND CRAFTS ACTIVITIES FOR RESIDENTS WITH ALZHEIMER'S:
Engaging the residents with Alzheimer's/Dementia in arts and crafts activities helps them be creative. These creative activities help stimulate the brain, enhance cognitive abilities, stabilize emotions, boost the immune system, and make residents more socializing. Here we'll review some of the best arts and craft activities for our residents which delay the progression of dementia along with maintaining their overall health.
Putting Together Collages: In this activity, you may choose some of them for the colleges and involve the residents in putting these collages together from magazines, photographs, and newspapers. This creative activity stimulates the brain and triggers the memories of residents with Alzheimer's.
Picture Puzzles: You may cut the enlarged size photo of one of the close relatives or siblings of residents into small square pieces and allow them to arrange in the original form. This activity helps Alzheimer's maintain their focus on the provided task. Photographs may also trigger the thought process of Alzheimer's and reverse the memory loss.
Arrange Flowers: It is a perfect activity for the residents who love gardening. You may provide the residents with flowers of different colors and let them arrange these into groups according to their fragrance and color. This activity targets the sensory system and helps boost the sense of smell and vision process.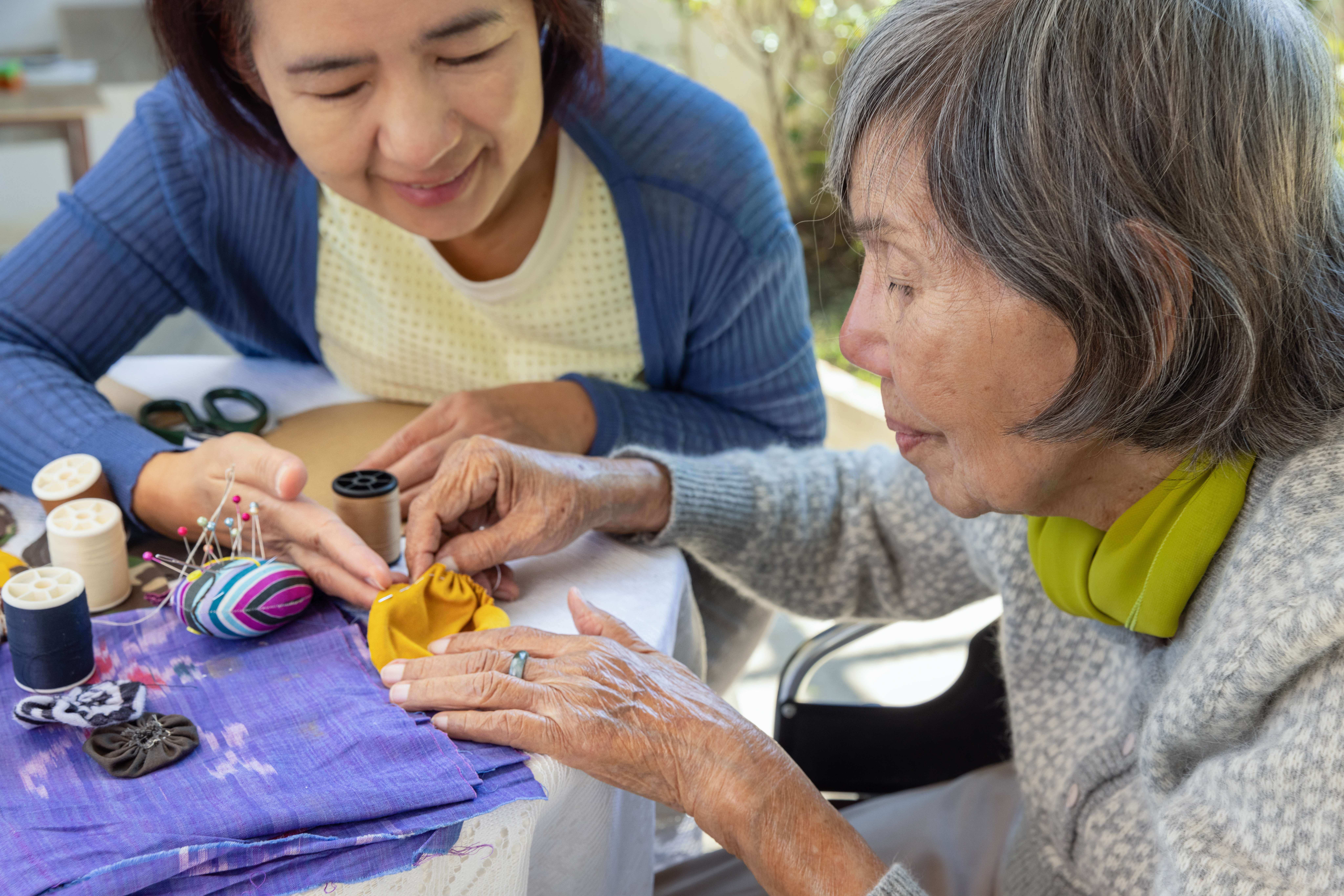 ROLE OF CARE CENTER:
We at City View assisted living facility believe in keeping active! That may be by offering creative arts and crafts, physical activities, or other types of brain engaging options . Both indoor and outdoor activities are available here at City View memory care center Los Angeles which stimulates the brain, improves memory and mood, and reduces the stress and depression of Alzheimer's. Behavioral therapy at our care center is also of great help in slowing the progression of memory loss. It also helps to maintain psychological health. Contact us today at City View to discuss our services and visit our beautiful residence.
REFERENCES:
[1] https://www.storiicare.com/blog/arts-crafts-alzheimers
[2] https://dailycaring.com/activities-for-seniors-with-alzheimers-10-inexpensive-diy-ideas/
[3] https://www.sunriseseniorliving.com/blog/may-2021/art-projects-for-seniors-with-dementia.aspx
[4] https://www.atlas.care/benefits-art-therapy-for-dementia-patients/
515 N. La Brea Avenue Los Angeles, CA 90036