Virtual reality, or VR, is an artificial 3-dimensional environment created by a computer program to simulate surroundings that aren't really there. When an individual uses these types of programs, they accept it as a real environment. Designers create VR platforms and devices such as Oculus Rift to move users to 3D environments where they can move freely and participate in predetermined tasks and achieve goals.
The use of virtual reality is vast in different industries like entertainment (for gaming and watching movies), for education (military or medical training), for businesses (for virtual meetings), and the list goes on. Virtual reality headsets have a built-in screen, or have a place to fit a device into it, and sensors to make the user feel as if they are inside the simulation.
As life expectancy increases, a larger population of senior citizens is the obvious result. Subsequently, seniors and retirees want to continue to live as independently as possible. However, it is understandable that more assistance is required as we age. An increasing world population results in more social challenges such as a greater healthcare demand, growing family obligations and responsibilities, and an increased need for assistance for our general care.
One of the main cognitive issues that hinder living independently is memory impairment. The early stages of dementia reduce memory processes and reduce the autonomy of older people when performing complex daily activities. At the same time, it contributes to the decline of emotional, social, and psychological well-being. Although dementia is not a part of the aging process, it is still considered a significant cause of disability and dependence impacting elderly people worldwide.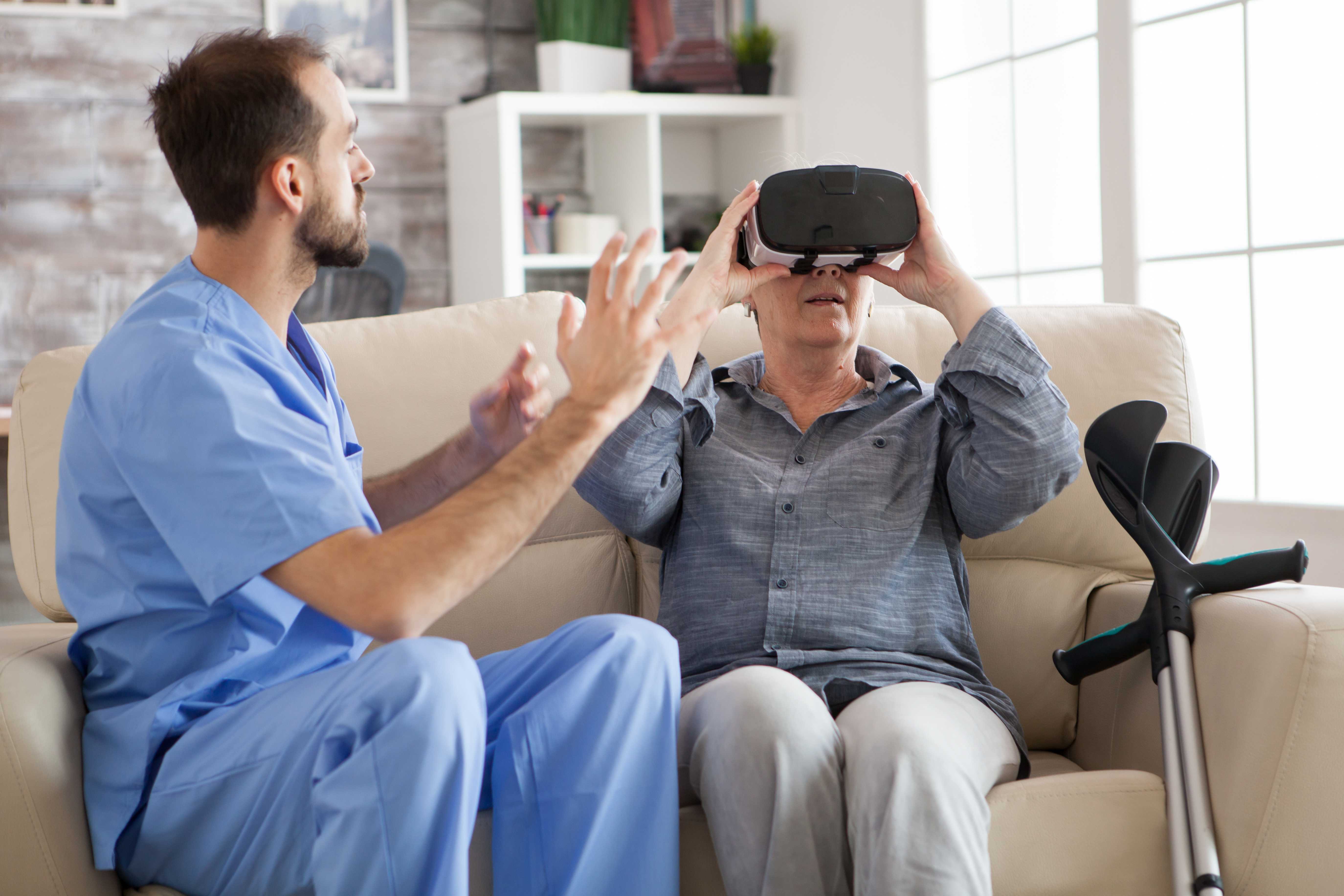 Cognitive Training by Virtual Reality
To reduce the risk of dementia, cognitive training is considered vital. Virtual reality (VR) technology can be used to establish a VR mental training program. This specific brain training can enhance the average person's memory capacity to retain the ability to remember quickly as they grow older.
VR is an advanced computer-based interface that includes real-time simulation and embedded theme connections with multiple sensor channels (visual and auditory) depending upon the environment for which the person has requested.
Modes of Cognitive Training by VR
Therapeutic virtual reality (VR) has emerged as an effective psychotherapeutic exercise for people with mild cognitive impairment(MCI). However, to replace existing non-medical medical training agreements, VR platforms need to be significantly improved when recruiting older people with depressive symptoms and impaired memory.
VR distraction therapy immerses the patient effectively; this tricks the brain to be working in another reality. The process stores the brain with information that leads to reduced anxiety and pain.
Virtual reality (VR) technology, as an emerging intervention, has gradually become an adjunctive therapy of various diseases. It has been shown to be of benefit for those diagnosed with cerebral palsy, depression, and Parkinson's disease, as well as others.
The most promising non-pharmacological intervention is to delay the progression of Mild Cognitive Impairment (MCI) to dementia.
Methods incorporating exercise, brain training, and virtual reality (VR) have also been used to treat and slow the onset of dementia. A random control trial group of elderly adults with unimpaired cognitive function has shown that VR exercises have more promising cognitive and physical results. Also, VR exercises were more popular and enjoyable than physical exercise alone.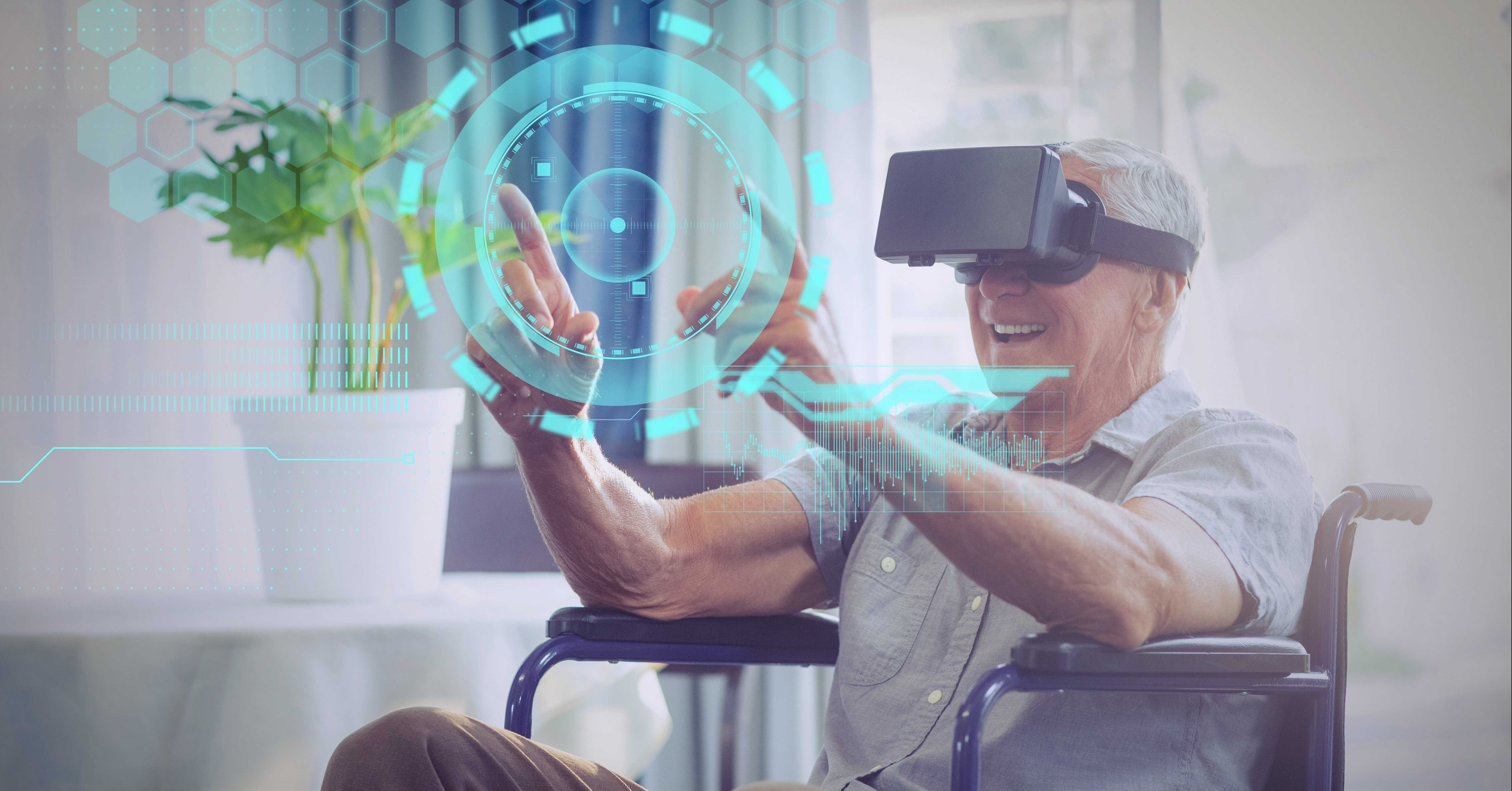 Benefits of Using Virtual Reality in the Treatment of Cognitive Decline
The use of VR in the treatment of Mild Cognitive Impairment has the following benefits.
It can stimulate the real-life experience and provide short-term feedback according to the individual's performance by creating a virtual environment.

It allows patients to do exercise in a limited space.

It reduces healthcare costs as no therapist is required to guide the person

In contrast to traditional invasive methods, it is safe, provides personal motivation, and encourages.

It adjusts difficulty level according to the patient's skills and conditions of their health.

It provides Attainment of actual immersive presence so that patients may be treated physically inside a virtual environment.

Virtual Reality training provides a high level of experimental control, providing access to attain results for different brain functions

Under a virtual reality system, the patient feels a variety of sensory stimulations in an immersive environment, which would improve his overall functional learning

With the help of VR technology, the patients of MCI can perform their daily activities

VR can be used to improve the effects of standard treatment, promote longer training sessions, and reduce rehabilitation time.
VR interventions, especially in the immersive genre, are helpful for people with MCI or dementia. These results should contribute to the development of VR intervention guidelines for patients with cognitive decline.
We at City View assisted living facility in Los Angeles are always exploring new and potentially beneficial treatment modalities for our residents. It is our responsibility to provide the best care and offer a selection of unique activities to maintain a balance of independence, and care as needed. Please call now and allow us to show you what sets City View assisted living facility apart from the rest of the assisted living facilities in Los Angeles by making an appointment to visit our beautiful and welcoming home. We can be reached at City View assisted living facility. We look forward to hearing from and addressing any questions and concerns you may have about assisted living in Los Angeles.
515 N. La Brea Avenue Los Angeles, CA 90036